November 20, 2020
NAOS: "With iSpring, we launched our first online training program and cut training expenses to a quarter of the previous cost"
NAOS is an international skincare cosmetics company ranked among the top 50 beauty companies worldwide. Headquartered in France, NAOS has 48 affiliates and operates in more than 130 countries.
A growing workforce of 3,000 employees in more than 130 countries, coupled with the recent COVID-19 outbreak, stressed the need to develop a comprehensive online training system that would be both effective and engaging for the employees.
Ahmed Taha, training manager at NAOS Bioderma, shared how the company was able to launch their first online training program within three months and cut training expenses to a quarter of their previous cost — with iSpring.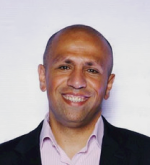 NAOS Background and Objectives
NAOS is a purpose-driven cosmetics company with a mission to create authentic products that respect the skin and act when and where they are needed.
NAOS incorporates 3 world-recognized skin-inspired brands: Bioderma, Esthederm, and Etat Pur. Over the past 20 years, NAOS has shown sustainable growth both in turnover and in geographical presence.
The goal of our training department or, as we call it, the NAOS learning factory, is to ensure that all 2,000 field employees, including affiliates and distributors all over the world, have solid product knowledge and receive the same engaging learning experience.
As a training manager, I'm also responsible for supporting trainers from different geographical areas, including Eastern and Central Europe, Latin America, and Asia.
The Challenge: Going Online During the COVID-19 Lockdown
Before the COVID-19 pandemic, we were using the instructor-led training model with face-to-face training sessions in groups of 15-20 employees.
In addition, we had our own training website based on the Moodle platform. However, it was far from being user friendly and the material wasn't designed properly from a pedagogical point of view. As a result, both trainers and employees were reluctant to use it.
Before COVID-19, we were conducting face-to-face training sessions in groups of 15-20 employees.
When the COVID-19 lockdown began, people were forced to stay at home and we had to come up with an online solution to make online training as interactive and interesting for the employees as the live sessions used to be.
We were looking for a solution to make online training interactive and interesting.
We first tried Adobe Captivate, which is a good tool, but too complex for our needs and expensive. Finally, thanks to our Global Training Director, Veronique Bonard, we found iSpring, and it became our #1 authoring toolkit for a number of reasons:
Creating content with iSpring Suite — with no design background
After the lockdown started, our instructors who previously ran live courses had to create the online versions of their courses. At NAOS, we don't have a dedicated design team to build our learning courses, and most of our trainers have no design background.
Our trainers have extensive pedagogical, scientific, and pharmaceutical knowledge, but are not designers by qualification.
That's why we really appreciate that our iSpring Suite authoring toolkit is PowerPoint-based. If you are familiar with PowerPoint, you can start creating courses right away using the iSpring Suite toolbar.
Of course, there are certain pedagogical requirements that have to be developed within the module, but once you have it all in your PowerPoint presentation and if you have an audio narration recorded, you can create a module within a half an hour with iSpring Suite.
With iSpring Suite, you can create a learning module within a half an hour if you have a PowerPoint presentation and a voiceover recording.
Making content interactive and pedagogically effective
We always strive to make our learning materials suit different learning styles. We work on the pedagogical aspects of the content comprehensively: how the information is organized, how new concepts are explained, and even the way the questions are created.
From this point of view, iSpring Suite is amazing. Whenever I think about a pedagogical aspect I'd like to include in the course, I always find the option I need in iSpring Suite. The team behind iSpring solutions clearly has very profound pedagogical knowledge.
Whenever I think about some pedagogical aspect I'd like to include in the course, I always find the option I need in iSpring Suite.
For example, I find iSpring's dialogue simulations to be a great learning tool. An employee can interact with a person on the screen, observe their reactions, practice various scenarios, and gain confidence before they have their final test.
Another useful feature is that iSpring's audio narrations provide learners with detailed explanations of the material. I'm using the Natural Reader text-to-speech software to create voice-overs and then I go to PowerPoint and synchronize the recording with the slides, literally with one click.
We also try to enhance the slides with interactive exercises and quizzes to make modules both challenging and effective.
Combining synchronous and asynchronous training with iSpring Learn LMS
Aside from the COVID-19 situation, we feel the best fit for NAOS in terms of learning is blended learning, with self-paced online courses and regular live sessions.
While unable to conduct face-to-face training during the pandemic, we still managed to simulate the blended model — thanks to iSpring Learn LMS and our meeting platform, Microsoft Teams.
The training at NAOS is usually scheduled at periodic intervals. The trainees receive a training calendar where they can see the dates of an upcoming training and sign up for required sessions. A training interval usually takes five working days, during which the employees consistently complete online modules on iSpring Learn and attend live classes on Teams.
Online courses can be accessed 24/7, whereas live sessions are fixed in time: we have them scheduled in the iSpring Learn calendar. During the live sessions, we do a recap of the module: facilitate the information and discuss questions and challenges.
Results Achieved with iSpring
With iSpring, we trained 113 employees from various locations across the globe in three months. And we launched 5 learning tracks for two of our brands: Bioderma and Esthederm.
Bioderma Onboarding training (11 courses)
Bioderma Medical training (14 courses)
Bioderma Medical Visit (4 courses)
Esthederm Onboarding training (11 courses)
Esthederm training module for trainers (12 courses)
We have also developed a number of home activities for the employees to complete, like worksheets on testing the products and skin diagnosis. The feedback we've received from our employees so far is marvelous.
From a financial point of view, we have benefited considerably by using iSpring. Before the pandemic, we were performing training face to face. Each of the 4 international trainers on the NAOS team previously made over 14 business trips a year. Considering that every international trip cost us roughly €1,000, we've cut travel expenses to a quarter of the cost with iSpring.
We're considering scaling our experience with iSpring up further across all NAOS brands and locations. iSpring tools have been very helpful for us.