September 29, 2023
How to Create a Training Module: A Step-by-Step Guide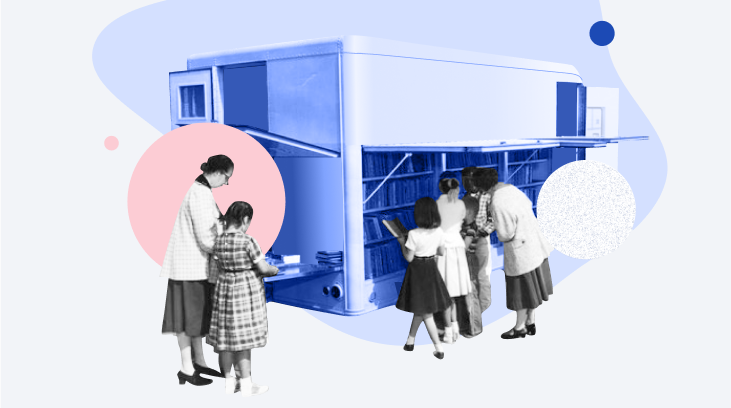 Want to showcase your company as a great place for employment? Ditch the over-the-top amenities like game rooms and nap pods for something employees really want.
A Deloitte survey of young professionals found that "opportunity to learn" was one of the most desirable benefits an employer can offer. To make corporate training effective, it's crucial to provide learners with relevant content. 
In this article, we'll show you how to create a training module that will keep your employees motivated and engaged. 
What Is a Training Module?
A training module is a component of an online course that focuses on a specific objective and is designed to teach on a learning topic. Each module is like a chapter of a book, leading to the next. When seen as a whole, training modules make up an entire layer of knowledge and tell a complete story.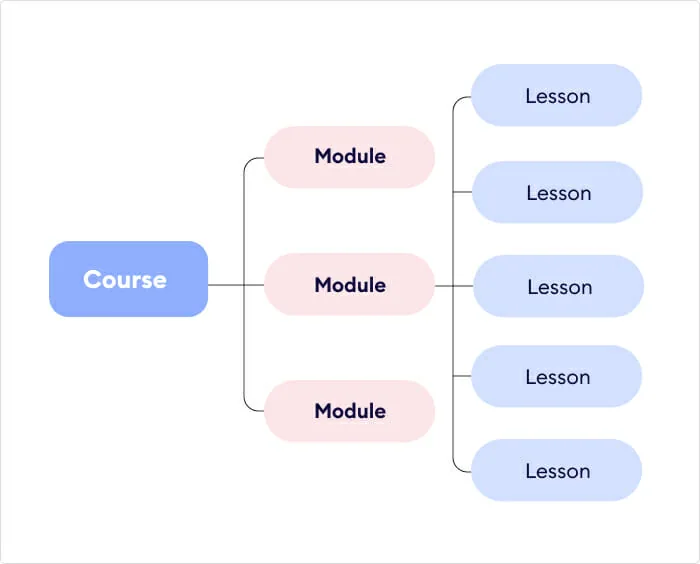 Types of Training Modules
Offering a variety of content types allows you to create a richer training experience for all of your learners. Here are some examples of online training modules and tips on how to utilize them:
1. Informational e-course
An informational eLearning course is a popular online training module that typically represents a set of slides with text, pictures, and "Next" buttons. This provides learners with information on a specific topic. When you create such an online training module, focus on its clarity of look and optimal length to help learners focus on the learning topic better.
Example of an informational e-course
Check out a online training module→
Best suited for
Delivering standardized knowledge, such as onboarding, safety, security awareness, or compliance training.
Providing information on a new product, technology, or policy update.
2. Interactive assessment
Interactive assessments are a type of online quiz that incorporates a variety of question types, custom branching, and scenarios. The more these quizzes engage learners by prompting them to move, compare, or choose objects, the better it is for learning experience.  So, it may be a good idea to use multiple-choice, true or false, fill-in-the-blank, drag-and-drop, matching, and sequencing question types.
Example of an interactive assessment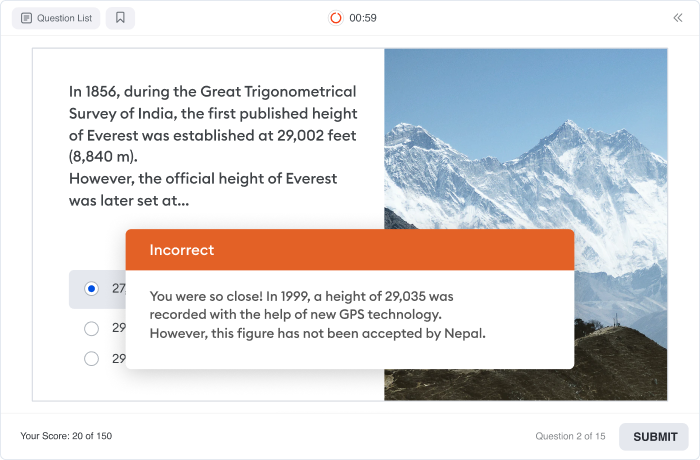 Check out a complete learning module →
Best suited for
Measuring your learners' level of knowledge relevant to their work and/or ability to apply knowledge.
Challenging tasks that require certification or credentialing.
Proof of completion of learning activities.
Identifying learners who may need additional support.
3. FAQ interaction
An FAQ interaction is a layout that gives users one-click access to reference information and frequently asked questions on a specific topic. You can present an FAQ interaction as a series of questions and answers or a list of topics and details. You can also add keywords to your FAQ interaction to enhance search functionality within your online course.
Example of an FAQ interaction
Best suited for
Creating a standard format to organize and present basic information.
Glossaries, definitions, or other basic knowledge-level facts.
Providing information that is additional to the main content of the course.
4. Video lectures and screencasts
If you opt for a video-based format of training, chances are it will be video lectures and screencasts. A video lecture is an instructional video that has been recorded and saved for viewing at a later date. 
Example of a video lecture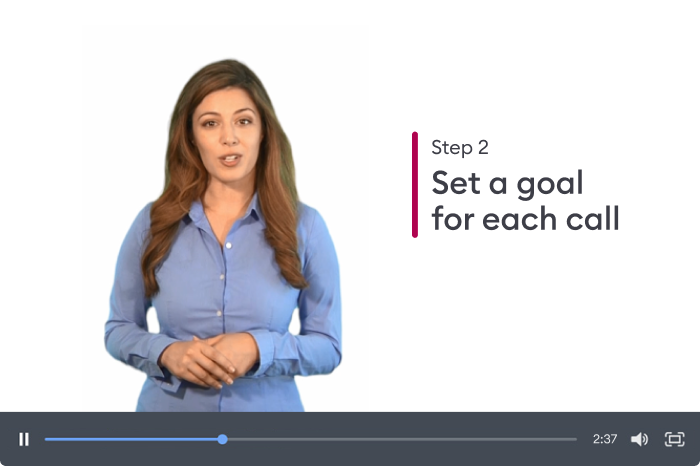 Check out a complete learning  module →
A screencast is a video recording which captures the actions that take place on a screen, like accessing programs or navigating certain features.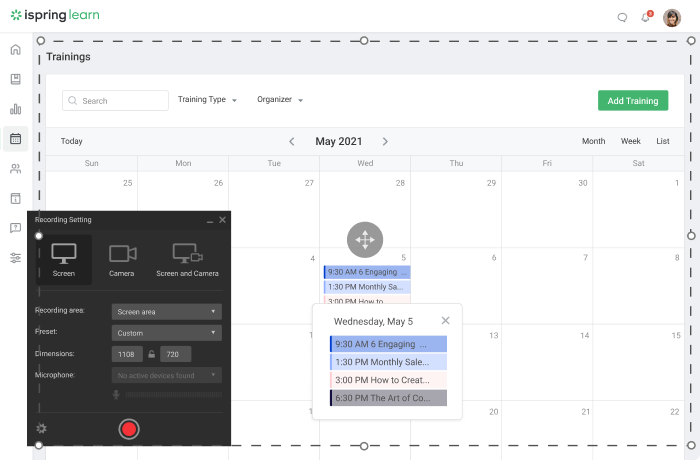 Tutorials to demonstrate basic business tasks, such as how to access programs, how to navigate through an online system, or how to fill out forms.
Best suited for
Providing a large audience of learners with access to a particular portion of knowledge, like a lesson.
Creating an effect of presence and enhancing comprehension.
5. Role-play scenarios
Role-play scenarios help your learners build communication skills by applying their knowledge in conversations with colleagues and customers and measure their performance.  They are basically dialogue scenes with branching scenarios that immerse learners into practicing in a realistic, yet risk-free environment, which is perfect for sales training. 
Example of a dialogue simulation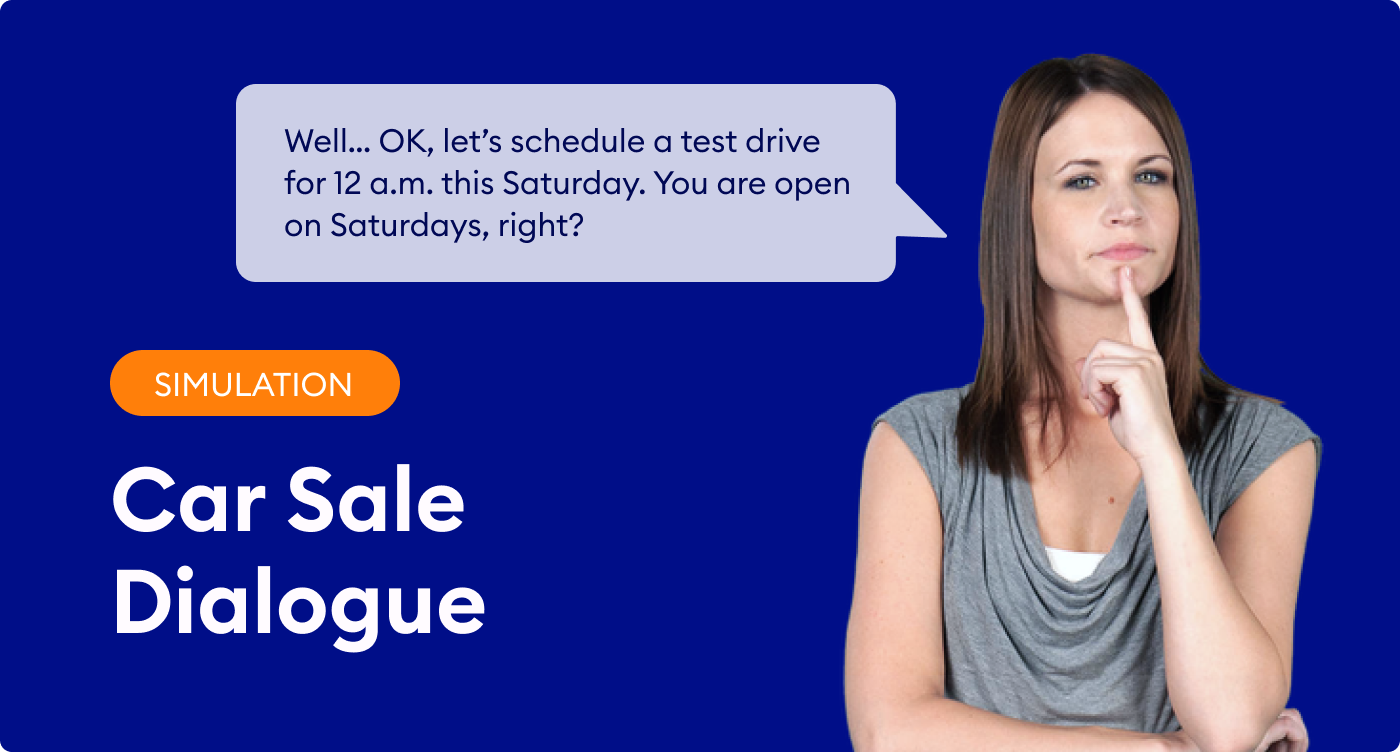 Check out a complete learning module→
Best suited for
Customer service and sales teams, for developing customer relationships and closing sales.
Educating coaches and instructors who have to communicate information systematically to individuals or audiences.
6. Microlearning module
A microlearning module is a bite-size lesson that provides a focused answer to a single problem or question. It can usually be completed in about five minutes at the point of need. If it is too long, it's better to break it down into smaller pieces.
Example of a microlearning module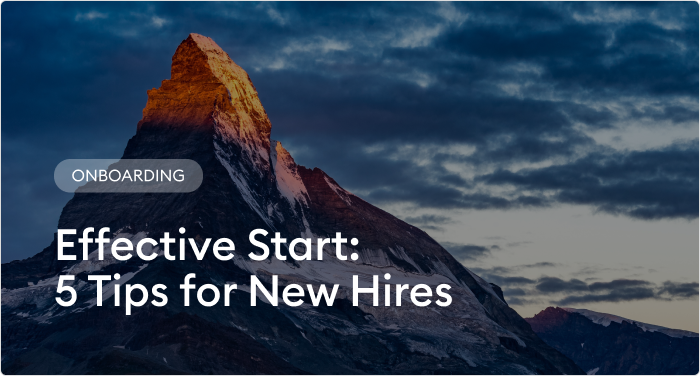 Check out a complete learning module→
Best suited for
Employee training during an idle moment and immediate practice of the new knowledge. 
Taking courses about a new product or services, updated policy, or new terms super quick.
Providing the basics of a learning topic prior to face-to-face training sessions.
7. Digital job aid
A digital job aid is a document or presentation that is accessible virtually and can be played, downloaded, saved, or printed by the learner. Typically, it can be a flipbook made from Word, PPT, or PDF files.
Example of a digital job aid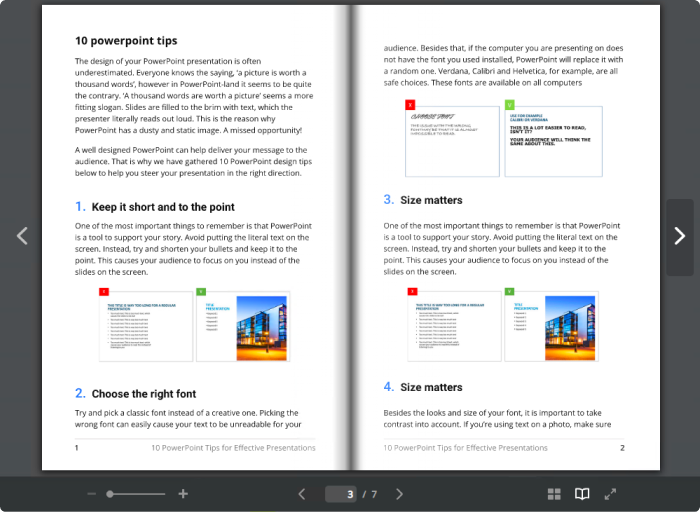 Best suited for
Accessing manuals, guides, instructions on mobile devices, or on an internal drive.
Microlearning initiatives within a company. 
Also read: → 5 Types of Employee Training
How to Design the Best Training Module, Step by Step 
Creating the best training module requires careful planning and execution. In this step-by-step guide, we will walk you through the process of developing an effective training module. 
Whether you are a seasoned instructional designer or new to creating online training modules, this guide will provide you with valuable insights and practical tips to create a training module.
Step 1: Define the Problem
The first rule of training success is: Solve the right business problem!
Ask detailed and probing open-ended questions to find out:
What is the nature of the problem to be solved?
What knowledge or skill is needed to bridge this gap?
What is the level of knowledge or performance that your people actually do have?
What is the expected level of knowledge or performance your people should have on this topic?
The answers you get will ensure a clear understanding of the business problem and help you set up learning objectives for your module.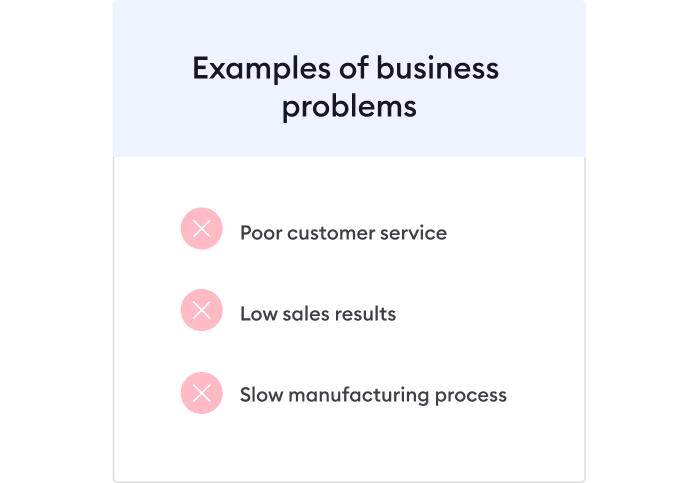 Step 2: Write a SMART Objective
A training goal or objective confirms the reason for learning and communicates the focus of the module. For the best results, think SMART and create a goal that is:
Specific – the learner knows what they will learn or be able to do after finishing the training course;
Measurable – learners will leverage this knowledge consistently for each report;
Achievable – the learner will be able to perform the tasks you expect them to;
Relevant – the content will be focused on job essential knowledge and skills;
Timely – the learner will be able to complete it in a timely manner.
A SMART goal will motivate the employee by showing them "what's in it for me" in learning.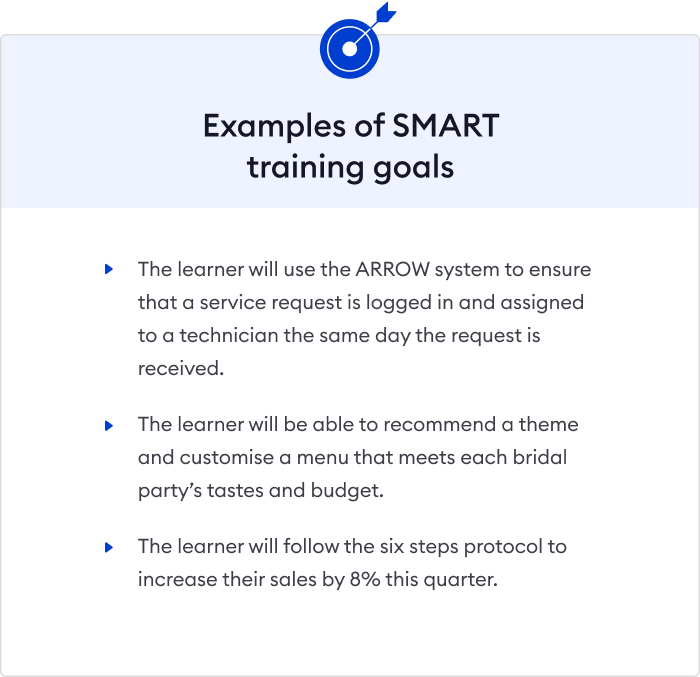 Step 3: Decide on the Right Content Format
After you explore the problem and decide on your objective, you're all set for the practical part!
The secret to building great training is to match the right kind of training module to the learning task at hand. The chart below aligns different content formats with particular learning needs.
Types of eLearning content for specific learning needs
Learning/Organizational Skill or Need
Recommended eLearning Solutions

Job knowledge
Compliance and safety
Onboarding

E-course
Interactive assessment

Processes or procedures
"How to" resources

FAQ interaction
Screencast
E-Book
Hands-on interaction

Product knowledge training

E-course
Video lecture
Webinar

Software and systems training

Screencasts
Hands-on interaction
Video tutorial

Sales and customer service training
Soft skills
Leadership development

Video lecture
Dialogue simulation
Podcast

Proof of competency or skills achievement
Certification
Whether you've never worked with any eLearning tool before or you're an eLeaning pro looking to expand your repertoire and make courses quicker, iSpring Suite will help you create awesome training. It's able to create varied formats of interactive learning content easily, in the PowerPoint interface and even from existing ppt, Word, and pdf files.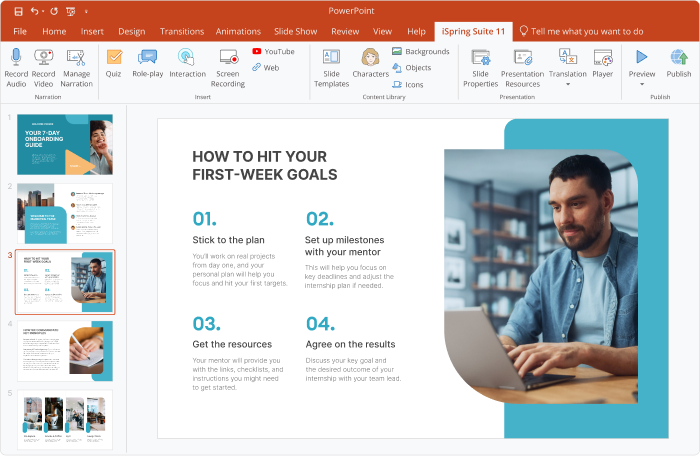 iSpring Suite provides the near-limitless options to populate your slide-based course with quizzes, ready-made interactions, and characters, build role-plays by simply pasting script lines when needed, and record any type of instructional videos without high-tech video editing tools. Plus, it allows you to co-create and review eLearning content together with colleagues in real time, which is great for our next step. 
Step 4: Feedback and Revision
After a bit of work on your part, the first version of your training module is ready! Now, it's time to forward your first draft to your Subject Matter Experts (SMEs) and Stakeholders for feedback and approval.
Don't be surprised if subject matter experts  leave a LOT of feedback on your initial efforts and want to put it all into the training module. This may cause an endless feedback loop which you can successfully prevent with a three-step design protocol, known as alpha/beta/gold:
The first draft of a training module is known as the alpha draft. For an experienced instructional designer, an alpha draft should be about 75-80% correct. This is typically where you will get the most feedback from your SMEs.
The revised second version of a training module is the beta draft. If you've received quality feedback during the first round, your beta version should be about 95-98% accurate. So, you should have far fewer revisions at this point.
The final draft is called the gold version. Unless your SMEs have missed vital information in the previous rounds of review, the gold version should be 99-100% correct. SME and Stakeholder review of the gold draft should happen quickly, and now you have awesome training content that's ready for learners.
Step 5: Run a Pilot with a Test Audience
As a best practice, you should run a pilot of any new training before putting it into circulation across your organization. To get started, select a test audience that consists of a small group of employees who are not proficient in the given topic.  Then gather feedback from them and find out what worked best, and what could be improved. If the intended performance goals are not achieved, think of the gaps that might exist. Discuss the ways how to fill in these gaps with SMEs and stakeholders.
Step 6: Create a Final Version, Upload, and Launch
At this stage, you're ready to create the "final final" version of your training module and upload it to the learning management system (LMS). You may want to work with your business partners, change management, or project management to coordinate a formal roll-out of the new learning initiative.
You may also want to provide detailed reporting data about learning consumption and results 30, 60, and 90 days after your program launches. Tracking data for on-the-job performance metrics is a great way to show the training's impact on employee development and actual work performance.
Also read:
→The 11 Best HR Tools for Streamlining Your Workflow in 2023
→17 Key Recruiting Metrics and How to Improve Them with Online Training
FAQ on Training Modules
What is the purpose of this training module?
The purpose of this training module is to provide information and instruction on a specific topic or skill. It aims to educate and train individuals to improve their knowledge, skills, or performance in a particular area. The learning module may include various interactive elements, assessments, and resources to enhance the learning experience.
What are the components of a training module?
A training module typically consists of several components, including:
Introduction: This section provides an overview of the training module and sets the context for the learning objectives.
Learning Objectives: The module should clearly state what participants will be able to do or understand after completing the training.
Content: This is the main body of the module, where the actual training material is presented. It may include text, images, videos, interactive elements, and other multimedia resources. 
Activities and Exercises: To enhance learning, modules often include activities and exercises that allow participants to apply the knowledge and skills they have learned.
Assessments: These are used to measure participant's understanding and retention of the material. Assessments can take various forms, such as quizzes, tests, or practical assignments.
Summaries and Reviews: At the end of each section or module, a summary or review section is often included to reinforce key concepts and provide a quick recap of the material covered.
Resources and References: Additional resources, references, and recommended readings may be provided to further support learning and provide participants with supplementary materials.
Conclusion: Training module should conclude by summarizing the key points and reiterating the learning objectives.
Feedback and Evaluation: Participants should have the opportunity to provide feedback on the module and evaluate their learning experience.
Certificates or Badges: Some training modules may offer certificates or badges upon successful completion, serving as evidence of the participant's achievement.
Overall, these components work together to create a comprehensive and effective training module.
What is the difference between training module and training manual?
Training modules are designed to deliver information and instruction through a combination of multimedia elements such as videos, audio clips, interactive activities, and quizzes. They often utilize e-learning platforms or software to provide an engaging and interactive learning experience. Training modules are particularly effective in scenarios where hands-on practice, simulations, or demonstrations are required.
Also read: →12 LMS Benefits For Recruiters, HR, Sales and Commercial Directors—Expert Opinion
On the other hand, training manuals are typically in a written format, consisting of detailed text-based explanations, diagrams, charts, and examples. They provide a comprehensive and systematic overview of the training content, allowing learners to study and reference the material at their own pace. Training manuals are commonly used in self-paced learning environments, where learners can read and review the information independently.
Ultimately, the choice between a training module and a training manual depends on the specific learning objectives, target audience, and available resources. Both formats can be valuable tools for delivering effective training, and often a combination of both may be used to cater to different learning preferences and needs.
Takeaways on Creating a Training Module
Solve the right business problem!
Adhere to SMART objectives. 
Try different styles in online learning. 
Use an authoring tool such as iSpring Suite to create engaging learning materials, and an LMS to manage training.
Bear in mind SME participation, feedback, and revision.
"Test drive" this new initiative before making it available organization wide.
Training is never a one-and-done experience. Organizations always starve for improvement, so the shelf life of even the best eLearning can be anywhere from a few months to just over a year. Review all of your training modules at least twice a year for accuracy; expect that you will need to either update or completely revise your training modules on an annual basis.
Still don't have iSpring Suite Max? Download this course authoring software for free now and start creating engaging training modules right away!
If you're looking for a reliable, easy-to-use LMS, get an iSpring Learn trial or request a demo!